Cardiff Real Estate - Glendale Real Estate - Macquarie Hills Real Estate - Wallsend Real Estate - Charlestown Real Estate
Meeks Real Estate Testimonials
Words escape me Paul when I reflect on your unrelenting kindness and caring that you have so freely and willingly shared, during the sale of our family home of over 46 years.

My deepest gratitude for your ongoing Hope, guidance and encouraging support during my most difficult times, that highlighted your insightful principles and integrity.
Lavina Stobbart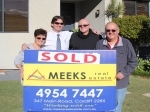 We would like to take this opportunity to say a huge thank you to yourself and all the staff at Meeks Real Estate for the amazing outcome of the sale of our home.

When we decided to place the property in your hands we did not in our wildest dreams believe that you would not only sell our home the first day on the market but also to obtain top dollar for us.

We have dealt with real estate firms in the past but have never experienced the professional, honest and genuine caring approach you showed us during this process.

Selling your home can be a very stressful experience too say the least but you proceeded to put us at ease and make the journey a very pleasurable and exciting time for us.

I wish you and your firm every success and prosperity in the future and will highly recommend you to all in need of the professional service you provide.
Ian & Bev Gowland & Terrance Samuels
Happy to recommend to all my friends and family! Everything was done well - great communication, fast sale, good price, open and honest, professional, helpful, prepared and well informed. Everything was spot on, never left in the dark wondering where things were up to. Always informed promptly and honestly. Never had to call and chase you! Most definitely worth the investment to be with you!! Very grateful Paul - Congrats on a job well done!! Goldstar!
Kylie
Meeks Real Estate was very friendly and offered good advice for us as first home buyers. They explained the process and were generally easy to deal with. They always returned calls and communication was very good and clear. Always on time, informative and well-presented when they showed us through.
Jared & Lauren
Absolutely!! We would most certainly recommend Meeks Real Estate. We were happy with all aspects while dealing with Meeks Real Estate. We feel a fair price was achieved and found the negotiation process excellent. All communication was great! We really appreciate being notified that each inspection was complete and relaying comments made by prospective purchasers. Thank you to all the Meeks Real Estate team.
Daniel & Vera
I have no hesitation in recommending Meeks Real Estate to anyone. They marketed a difficult property to sell, showed a lot of people through and put a lot of effort into promoting the property. Paul gave us really good advice during the negotiation and got a good price for what turned out to be a difficult property. Communication was really good and if I left a message Paul got back to me. Paul promoted to buyers that they could fix up the dwelling and build behind it which was a good way for first home buyers to get into the market.
Janet
Yes we are already recommending the Meeks Real Estate team to friends and relatives. Paul allowed the process of viewing the property to purchasing the property to happen smoothly and professionally. We didn't feel pressured by him at any stage. We are so thrilled to be home owners! All correspondence was timely and clear. All questions were answered thoroughly and we felt included in the whole process from viewing to purchasing because of this. Keep up the excellent work. Your professionalism made the process of purchasing our dream home an easy one. Thank you!
Paul & Cathy
Meeks Real Estate was an absolute pleasure to deal with. Paul, from the first contact they seemed genuinely interested in securing the property for us. We were very appreciative of the time and effort put in to secure it. Communication was exemplary and all phone calls, emails, queries were attended to in a timely manner. The agents were always on time, pleasant in nature and not at all pushy. Don't change a thing!!!! We would also like to commend the Property Management Staff - also very efficient, pleasant, helpful with our questions and needs.
Debbie & Craig
We would refer anyone wanting to buy or sell in the future to Meeks Real Estate. They were friendly, caring, understood the processes that we have had to go through and gave great advice. Communications were very clear and agents were accessible even out of hours to answer any further questions we may have had. The agents were on time to inspections and even when we wanted a second look on the same day, they were there when they said they would be. Very Friendly!
Christie & Joel
Meeks Real Estate kept me up-to-date with every move they made and achieved a price within my expectations. All calls, messages and correspondence were clear and I was pleased with the way my property was marketed for sale. It was worth the investment to be with Meeks Real Estate.
Angela
As a family that has put a lot of time and money into our property, and who were looking for the best possible outcome when selling, we turned to Paul and the Team at Meeks Real Estate as they presented as a hard working and honest team who become personally attached to your needs and interests. We found something different in Meeks Real Estate. A family based and orientated business who actually listen to you, work with you, inform you accurately and promptly, and who are not selfish. A team who worked overtime by returning on a daily basis to oversee all facets of the sale, valuations and inspections. We always felt we were in good hands, and contribute the very fast, smooth and successful sale of our home to your excellent service, and friendly nature. Thank you very much for helping us achieve our goals. The Kaley Family
The Kaley Family
Dear Paul & all the team,
Just wish to say an extra special thank you for all of your help, support and guidance that you have provided in selling our rental home. You made it seem like an easy process even though it was anything but! Communication is a strong point of yours and we always felt comfortable in talking with you and you also helped to explain things so well along the way. Paul you have a wonderful rapport with people and we believe it needs extra acknowledgement, so thank you as well to your whole team for providing such a wonderful service. Many thanks again Kyleigh & Shane.
Shane & Kyleigh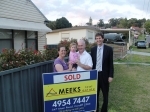 Anna and I would like to take this opportunity to thank you for the outstanding job you did at selling our family home. After going through an extremely stressful time whilst purchasing a house through another Real Estate Agency we were left feeling very disheartened about the ethics of local real estate agents. Before even listing our home with you, you offered us an unbelievable amount of support and guidance to help us in the purchase of another home. We found you to be extremely helpful, honest and always available to listen to our needs and concerns. The quick sale and price you were able to achieve for us is a fine example of your professionalism and dedication to your clients. We would be happy to recommend your services to anybody, including our friends and families. Kind Regards Anna & Paul
Paul & Anna
Dear Paul & Team,
We responded to a door knock campaign by your office which was courteous and friendly, and immediately decided to further explore engaging Meeks Real Estate to handle the sale of our property.
Throughout the sale of our property we have been impressed by the professionalism demonstrated by you and your team. We found your knowledge of the industry to be extensive and you were intuitive in addressing our needs. A speedy sale which exceeded our valuation expectations, further demonstrated your industry skills and knowledge of the local market.
In summary, we found your business logo "working with you" to be very appropriate. Once again, we wish to thank all the team at Meeks Real Estate for a positive and successful sales experience.
Kind Regards Keith & Christine
Christine & Keith Bennett.
Dear Paul,
We would like to express our sincere gratitude to you and your team at Meeks Real Estate, for our recent purchase.
As buyers, we were extremely impressed by your down to earth nature and exceptional communication skills. We wish to thank you for assisting us in every way you could, to make the buying process so seamless.
Within the real estate industry, it is rear to come across someone with such outstanding personal and professional skills. You are a true credit to the industry!
We truly thank you for your time and effort throughout the buying process and wish you and your company all the very best for the future. We hope to deal with you and your company again.
Mr. Gilbertson
To Paul, Belinda & Staff,

We'd just like to thank you for the hard work and long hours you put into selling our house.

We know that because of the location it would be difficult to sell, but you were always positive and successfully met the challenge.

We have appreciated your friendliness, courtesy, your never "give up" attitude and your integrity. We have already recommended you to friends.

Your knowledge of regulations regarding development, communication and honesty helped us to achieve a price within our expectations. All communications were very good with calls answered promptly and correspondence quite clear.

We were pleased with the way our property was marketed for sale and it was definitely worth the investment to be with Meeks.

Your help and advice in purchasing our new home has been invaluable. We can only say thankyou once again.

Yours Sincerely
Laurie & Claire Dennis
Claire & Laurie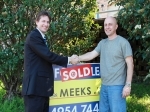 Hi Paul,

I just wanted to say thank you for the effort you and your great team put into selling my home in Macquarie Hills. I really appreciate the lack of "bullshit", you tell it straight, worked with me and you kept me informed each step of the way. That's the second one you've sold for me; I wouldn't go anywhere else and I recommend you all the time.

Kind Regards
James

James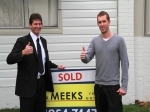 Dear Paul

I would just like to thank you for the wonderful job you have done in selling my home.

As you are well aware we hit some hurdles in the sale of my house due to an extension to my property. I am truly grateful to have had a person like your self working for me as I firmly believe without your expertise my property could have sat on the market for some time.

I was on a time frame to have it all wrapped up as I was heading overseas and with your honest approach not only with me but also the purchaser allowed us to have the sale unconditionally exchanged before I left which was a huge relief for me.

It is always hard when choosing an agent but experiencing your expertise in this area, I could not have found a better agent or company to represent me in the sale of my home.

You're negotiating skills, communication and advice is in my opinion is 2nd to none. I certainly wish you and your business all the success that you deserve and when I return from my trip I will certainly be using your company for any future real estate transactions.

Thank you
Mitchell Asser

Mitch Asser


We would like to thankyou for the professional, friendly and courteous manner in which you handled the sale of our house.

We always found you to be optimistic even when the market seemed to slow down. We were very pleased with the sale result and have no hesitations in recommending you as a trust worthy and professional Real Estate agent.
Thanks again
Rosalie & Shannon Spence

Tracey & I would like to thank you for your fantastic service in helping us to purchase our new home.
In the last 22 years we have purchased and sold 7 houses, we have always encountered the same arrogant agents that are full of self importance and unaware of the needs of their customers.
We are aware of the difficulties that are involved in having to please both the vendor and the purchaser and in your case you really have done yourself proud.
This has been the most enjoyable purchase that we have ever made, you listened to our needs, always answered your phone calls and if not called us back straight away, you never put us under any pressure and were very understanding while we were waiting to exchange with our own purchases.
We would be happy to recommend your services to any body, including family and friends, we look forward to dealing with you in the near future and entrust that your business receives the rewards it deserves.
It has been a pleasure dealing with you and we wish you all the best for the future.

Yours Sincerely

Doug and Tracey Baker